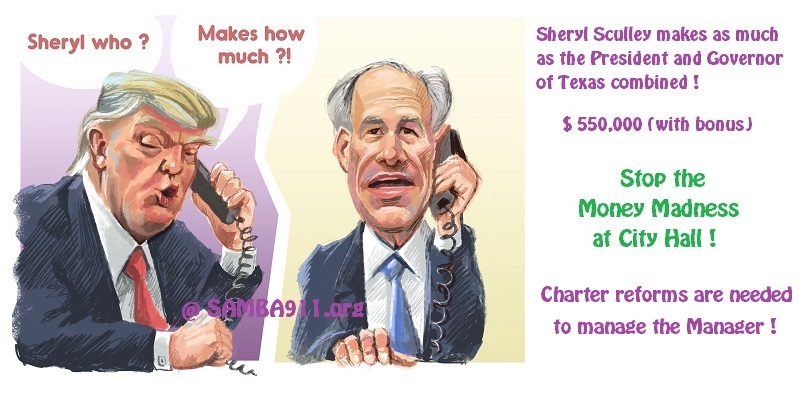 8/16/18 Concerned Citizens: Let the People Vote in November [Click to Watch]
Get Informed ..
follow these links :
Approved By Citizens Website
Email Firefighters Volunteer
Contributors to Hartman PAC that OPPOSE Charter Improvements

[ Total over $ 2.095 MILLION .. as of 8 Day Before Election Report ]


10/01/18

Highland Hills Meeting
Reinette King Represented SAPFFA


Reinette King shines - Mayor Disappoints!



"Reinette King is the spokeswoman for the Vote Yes campaign. Reinette was among the core group of community stakeholders who determined the propositions.

From the start, the SAPFFA San Antonio Professional Firefighters have been forthright in saying this is not our campaign, IT IS THE PEOPLE's.

She along with many others planned to be in attendance tonight to debate the mayor on behalf of the people.

The Mayor chose to cancel the event instead of being engaged with the constituents he serves. "...

- Chris Steele
Breaking NEWS: 08/30/18 4th Court of Appeals WIN for Firefighter Amendments
© Jim Forsyth iHeart Radio
08/16/18 City Atty to Mayor - Put FF Amendments on Nov. Ballot !
08/07/18 Hartman PAC Opposing Charter Improvements Files SLAPP Suit against Firefighters !
A Strategic Lawsuit Against Public Participation (SLAPP) is a lawsuit that is intended to censor, intimidate, and silence critics
by burdening them with the cost of a legal defense until they abandon their criticism or opposition. E-N Josh Baugh Report
Firefighters Successful - Petitions Certified
Sculley AAA DEBT Rating = Higher Debt and Lowers Financial Discipline - Vote YES to Amendments !
Directory of Revelations
Revelation
Click to Open
Date
Bureaucracy
Issue
Progress Made
12/12/17
SAWS
SAWS/city staff financial manipulation accompanying SAWS 2-year rate increase – E-N article 12⁄7⁄17.
3/7/18 - CEO Puente declined $ 96,700 bonus offered by SAWS Board
12/18/17
SAWS
SAWS' violation of the Federal Water Pollution Control Act and 10 yr delay to respond to an EPA Consent Decree resulting in $ 2.6 million civil penalty on Puente/Gorzell/Sculley watch
12/20/17
Centro
Response to E-N article exposing Centro embezzlement [Webner] introduces endemic corruption concept among our bureaucracies
1/1/18
"Causes and Effects of Corruption" versus corruption among our bureaucracies
1/8/18
McManus / SAPD
Smuggled aliens were caught and released by Police Chief McManus, a corrupt, political act E–N January 3, 2018 [Baugh]
1/11/18
McManus / SAPD
Texas Asst. A.G. Doty intervenes, requiring SA officials to "preserve all relevant materials" pending investigation of the McManus incident.Houston Public Media
1/15/18
McManus / SAPD
How corrupt have our bureaucracies become if our Police Chief endorses the Mayor's politics, rather than our State/federal laws? Responding to E-N [January 18, 2018 JBaugh],
1/19/18
Centro
$ 291,000 Centro embezzlement focus neglects the $ 2.51 Billion cover-up of CPS' understated 'smart'-Grid project laws? E-N [Januaary 18, 2018 JBaugh]
1/22/18
CFO Gorzell
Email to Asst AG Doty: Request to review city CFO Gorzell's non-response to Open Records Request for interest/issuance cost, a $ 456 Million add-on-to city's "$ 850 million" Bond program Link to Texas Public Information Act
1/25/18
City Council / Sculley
Sculley rewarded with bonus despite/because of subordinate corruption? E-N [January 24, 2018 JBaugh]
1/26/18
SA Housing
E-N January 25, 2018 [ Webner} article surfaced corruptible San Antonio Housing Trust Public Facility Corp. teaming with national developer NRP Group to build local apartment buildings.
1/31/18
Center City
E-N January 30, 2018 [Webner]surfaces "incentive package: $ 173,400 per condo," corruption at Center City Development and Operations Department, another city bureaucracy.
2/5/18
Summary of alleged corrupton among city bureaucracies and evidence for each. "Who's watching the watchers?"
2/6/18
Audit & Accountability Committee failed mission to use direct-report City Auditor Barthold to "facilitate government accountability to the Citizens of San Antonio .. "
2/8/18
2017 Bond
E-N reviews city sale of 10 acres to local non-profit, prompting exposure of property pooh-bahs. OneSA donors fund lobbying of voters to approve City Bond.
2/12/18
SAWS Vista Ridge
Puente's Feb. 9 Vista Ridge Council review - Vista Ridge cannot guarantee its water supply.Vista Ridge Video
2/19/18
SAWS Vista Ridge
The SAWS Vista Ridge "contract" lacks three elements required of a contract. A valid VR contract may not exist.
2/24/18
Uresti
Pay Attention Council: Carlos Uresti convicted ! "If you commit fraud, you are going to be held accountable."
CONVICTION E–N February 23, 2018 [Danner & Guillermo]
2/28/18
Centro
E–N February 25, 2018 [Webner]"Taxpayers picked up Centro tabs" reveals unlawful use of public funds to advoate for city Bond; CFO Gorzell illegally refused to reveal Bond's interest/issuance costs. Election Fraud? Continued at Revelation # 20.
3/2/18
VIA
Concluding Revelation #19; Exposes corrupt Judge Wolff VIA money laundering; unmanageable Centro organization structure imposed by Wolff/Castro; public-private partnership structure abets corruption, introducing criminality.
3/12/18
Nirenberg
Mayor Nirenberg tells fire union to end its games, Express–News, March 8, 2018, by Investigative Reporter Josh Baugh
4/09/18
Sculley
AAA Bond Debt Rating - SAMBA Letter to Bond Rating Agencies


4/16/18
CPS
CPS Grid - Who is Protecting Us? Russian Hackers Attacking US Power Grid and Aviation, FBI Warns Bloomberg@
4/23/18
Council's Technolgocial Tyranny
5/15/18
Charter Violation - Scofflaw Governance
5/25/18
CFO Gorzell
Corruptions Legal Hatchet
6/18/18
CPS
CPS $530 Million Bond Issue Smart Grid Projections Contrasted (CPS vs. SAMBA)
6/25/18
City Attorney
Charter Review Commission Aberration Austin Charter Review Commission Email to City Councilmembers
7/6/18
CFO Gorzell
Supervisor of Public Utilities - an Oxymoron
7/18/18
SAHA
San Antonio Housing Authority Bureaucracy Email
8/02/18
Mayor
Nirenberg Violated Ethics Code and State Law Email
08/28/18
Sculley
Economic Impacts of Firefighter Charter Amendments
9/06/18
Sculley
AAA Debt Rating Email Christian Archer Northeast Neighborhood Alliance Meeting Exhibit A Exhibit B Exhibit C
11/03/18
SSAF
SSAF [Secure San Antonio's Future] Contributors Benefits Email ATT: Table
Corruption, Fraud, Lies and Bureaucracies
The following terms are used in the Revelations about local municipal government and bureaucracies.
We welcome your comments !
Corruption is the exploitation of the many by the politically powerful for the benefit of the few, obscuring financial reality by using bureaucratic power to avoid transparency and accountability.
The elements of a Fraud:
a material representation was made
the representation was false
when the representation was made, the speaker knew it was false or made it recklessly without any knowledge of the truth and as a positive assertion
the speaker made the representation with the intent that the other party should act on it;
the party acted in reliance on the representation
and, the party thereby suffered injury.
Lie
to speak falsely or utter untruth knowingly, as with intent to deceive
to express what is false; convey a false impression
Bureaucracy

"Of all forms of government, those administered by bureaus are about the least satisfactory to an enlightened and progressive people. Being irresponsible, they become autocratic, and being autocratic they resist all development.  Unless bureaucracy is constantly resisted it breaks down representative government and overwhelms democracy.  It is the one element in our institutions that sets up the pretense of having authority over everybody and being responsible to nobody."

-President Calvin Coolidge, 1926
AAA Debt Rating Fraud & Corruption
The Tail (Insiders and Sculley)
Wagging the Dog (the City)!

SSAF PAC Report 07/15/18
SSAF PAC Report 10/10/18

USAA $ 300,000.00
Valero $ 300,000.00
Gordon Hartman $ 100,000.00

Hartman PAC claims Moody's will downgrade AAA rating
if Props A, B, and C pass

Au contraire: The truth can be found here: Moody's July 24, 2018 report




Factors that could lead to a downgrade

[ Props A, B, C - NOT a factor ! ]

Negative trends in operating performance
Weakened economic profile; contraction in assessed valuation
Growth in unfunded pension liability resulting in budgetary pressure
Increasing debt levels absent corresponding taxable value growth

NO Moody's Alert Letter !
VOTE NO Campaign "the sky is falling" campaign - a LIE !

Christian Archer claims Moody's sent "Alert Letter" a week prior to NNA Meeting !

Click here: Entire Archer Presentation
Click here: Transcript - Northeast Neighborhood Alliance 7/16/18
Archer's Claims were FALSE - See the following Open Records Requests :

COSA City of San Antonio

CPS City Public Service

SAWS San Antonio Water System

Analysis of Unedited Archer claims will be uploaded soon - Check back !
Moody's Conflict of Interest
Click here: Business Insider@ Article
Moody"s Analyst Breaks Silence:
Says Ratings Agency Rotten to Core With Conflicts

Local Fraud and Corruption in Bond Ratings:

Bond rating agencies are paid by the Issuer / the City
Bond Rating Agencies collaborate on reports with the city


Did you know that San Antonio paid the bond rating agencies $ 269,200 in 2017 !
Click here for Proof
and that is JUST The city .. what are ratepayers paying for CPS and SAWS ?
S&P Moody Fitch - CONFLICT OF INTEREST !!

"Investors are also concerned about a possible conflict of interest between the rating agencies and the bond issuers, since the issuers pay the agencies for the service of providing ratings. Because of these and other shortcomings, ratings should not be the only factor investors rely on when assessing the risk of a particular bond investment."
- Investopedia

12/7/17 Concerned Citizens: SAWS Rate Hikes [Click to Watch]
Question for Council:

Will you serve the people who elected you, or the bureaucracies that manipulate you?
We Reviewed the Charter and Municipal Code here is what we found:
---
Mayor Ivy Taylor Charter Review Commission Meetings - Video Links
6/14/17
6/07/17
5/24/17
Call to Action: Email your Councilperson
Nirenberg and all city Counclmembers took an oath to uphold the Constitution of the United States. Our Bill of Rights, in the First Amendment, promises that "Congress shall make no law ... abridging ... the right of the people ... to petition the Government for a redress of grievances." And yet, Nirenberg has chosen to use his office as a bully pulpit to aggressively target the Firefighters for exercising their First Amendment right, has vowed to enlist other members of council and has engaged "special interests" to "abridge .. the right of the people."

Please email your councilperson and ask that they oppose the Mayors' negative campaign which seeks to oppress an open and fair debate on the 3 Charter Amendments submitted by the SAPFFA. This is about your right to decide in November.